Collages by Ross W. Powell
Cut That Out
2005 - Paper collage used to advertise gallery shows. The Madman would have a little speech bubble with the time and place.
The Battle For Beta Andromeda
2016 - Photoshop collage. Hard to see at this res, but look for headset mics in the lemur's bubble helmets, as well as bullets stopped in action coming from the mantis' guns.
Fog Man 1
2016 - Photoshop collage. Design idea for front cover of a graphic novel I wrote. The hovering character likes to cheer people up by drugging them with a sort of vape dispenser in his boots.
2018 - Photoshop collage. There always seems to be things lurking in the woods.
Paper Diorama and Photoshop collage. 2018 - Clearly something is going to happen involving three sisters; a witch, a princess, and our protagonist in a mix up with cupid's arrow.
Stage One - Upstaged By Marilyn, Always
2017 - Photoshop collage. ...Especially if you're a muddy dog and even if you're a half a hairy coo in a bright red cart…or a pantomime lama.
Stage 2 - Junkanoo
2017 - Photoshop collage.
Stage 3 - Eddie Lizzard and the Wizzards
2017 - Photoshop collage.
Final Stage - Total Devastation
2017 Photoshop collage - Interesting thing about this collage is that the wings on the TrumpCherubs were already in the photo I found, right where they appear behind his head, I just cut it out.
The Adoration of St. Joni, or, What To Do When The Bubble Bursts
1990 - Paper Collage that lingered unfinished for several years, until the figures on the bubble ended a relationship. Then it all went together in one evening. Joni Mitchell appears as the Patron Saint of Star Crossed Lovers.
Big Brother Is Watching You While You Dream
1990 - Paper collage diptych
Nativity
1994 - Paper collage. Describes the birth of someone noteworthy, perhaps our own eventual progeny? Small visual pun with the sperm whale.
Captain Kitty and the Space Parrots
Circle Worlds
1993 - Paper collage diptych. The Orange Animals Of Omega 3 More Or Less Patiently Await The Mail, and, The God Mercury Strikes A Dramatic Pose Whilst Observing the Migratory Habits Of The Animals Of Aldebaran.
Coffee, Whales, Whatever...
1997 - Paper collage made to enter a Starbucks coffee mug contest. The ship is just the same kind as Captain Ahab would have pursued the Great White Whale Moby Dick in. The name Starbuck is after Capt. Ahab's 1st mate, for those who don't know.
Count Nancy's Cave
1999 - Photoshop collage. That's my wife, Nancy appearing as the vamp, the witch, and as Marilyn.
The Crypt Kicker Five
1992 - Paper collage. They of Monster Mash fame.
Faerie Parade
1999 - Photoshop Collage. Featuring friends from the SCA.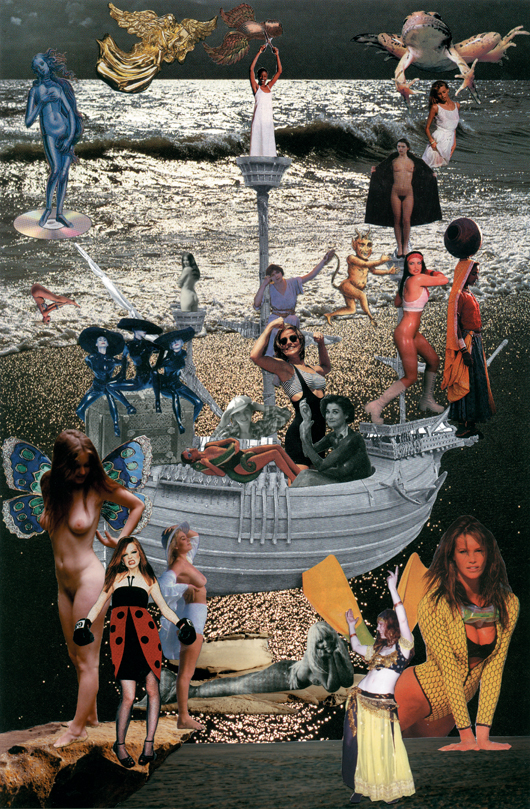 The Good Ship Venus
1993~ Paper Collage. La femmes fatale...or words to that effect.
Intergalactic Daycare
1995~ Paper collage. Are we having fun yet? The little girl doesn't seem to know what to do, whether she is outfitted appropriately, or where the beach is in this strange extraterrestrial playground.
The Sun Queen
1989 - Paper collage. My first effort.
Time Flies Whether You're Having Fun Or Not
1993/4? - Paper collage. Inspired by a gig we did in 1992, the Experience Canada Tour, as well as by other jobs.
My New Millennium
2000 - Paper collage made as clock-face. The title is because MY (and in fact, THE) new millennium started in 2001, and not, as people were putting about, in 2000, which is the last year of the 20th century.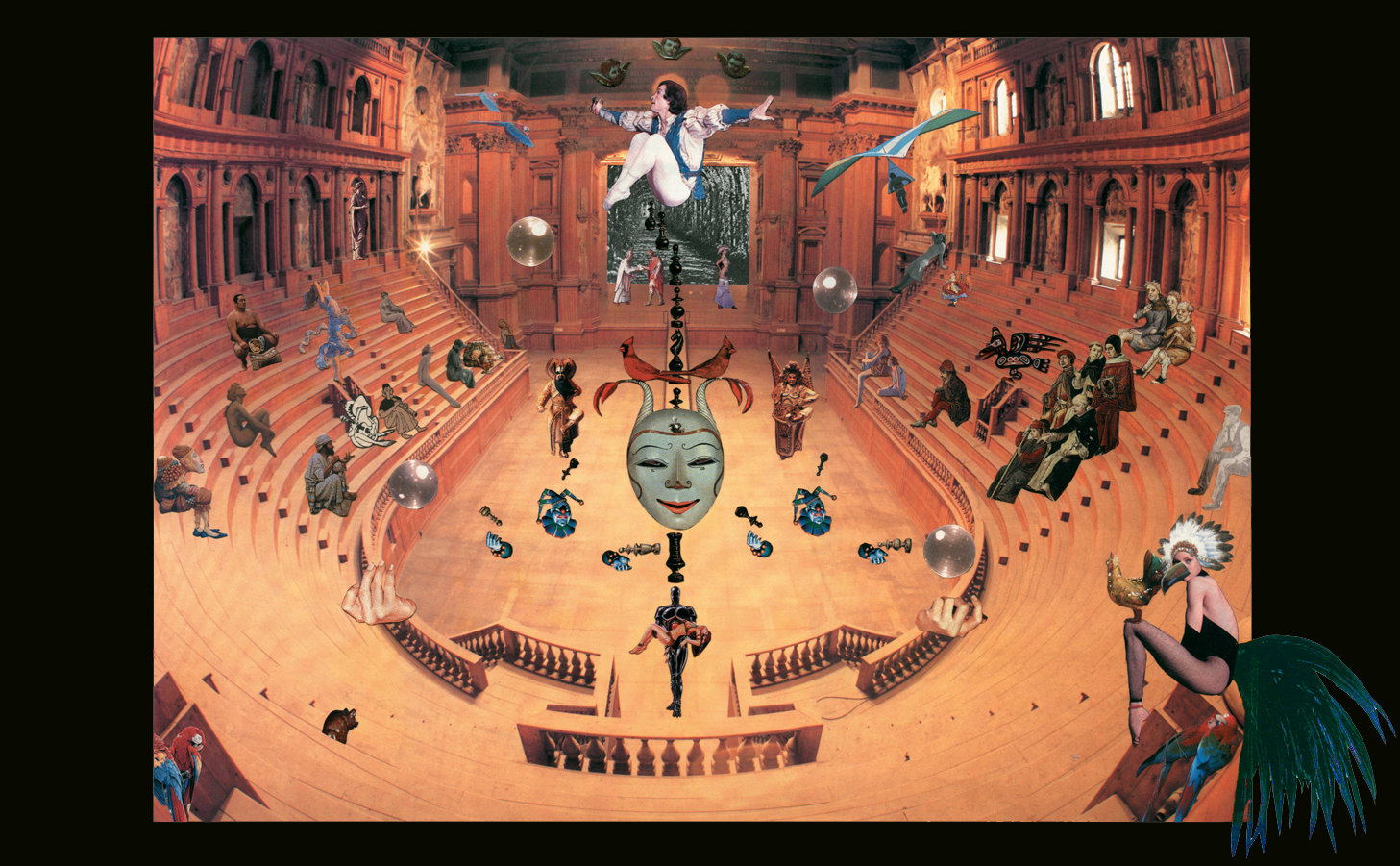 A Scene from the Two-Dimensional Player's Production of "The Pope Buys a Bride"
1996 - Paper collage. The Pope is making a deal for something he shouldn't, according to his own theology. The chess pieces have to do with political intrigue, as do the jugglers, who also double to show the similarity between themselves and the Pope–I mean, the costume is similar and it's all show biz, right?
The stands are only partly full, representing society's current apathy towards religion as well as live theatre (and the fact that it's very hard to find pictures of teeny tiny people sitting in just the right way).
An'a One, An'a Two, An'a…
1996 - Paper collage. Maestro Sergiu Comissiona, during his tenure with the Vancouver Symphony, while I was Stage Manager, conducts before an diverse audience. A copy of this hung in the maestro's office during his tenure there.
Gaia's Revenge
1996 - Paper collage. Mother Earth can only take so much, and sooner or later, she's gonna get pissed off and strike back. This is what will happen when she does.
Man stands accused, under guard and on trial on the stage.
The three rollerblade babes at the bottom centre represent the Three Fates; doubtless the first time they have been quite so depicted.
Urbane Renewal
1991 - Paper collage. I've been kicked out of many houses that I was renting so that the building could be torn down or put to another use. The couple in the foreground is myself and my wife, and no, we don't normally dress this way.